Virgin Voyages & Scarlet Lady: Day Two (Nassau) Recap
Today through Sunday, January 30th, Premier Custom Travel Founder and President Chris Grum is onboard Scarlet Lady, the first ship launched by the newest cruise brand – Virgin Voyages. Each day, Chris will be posting a recap blog with his thoughts on the ship and the experience. Here's a look at day two, featuring a stop in Nassau.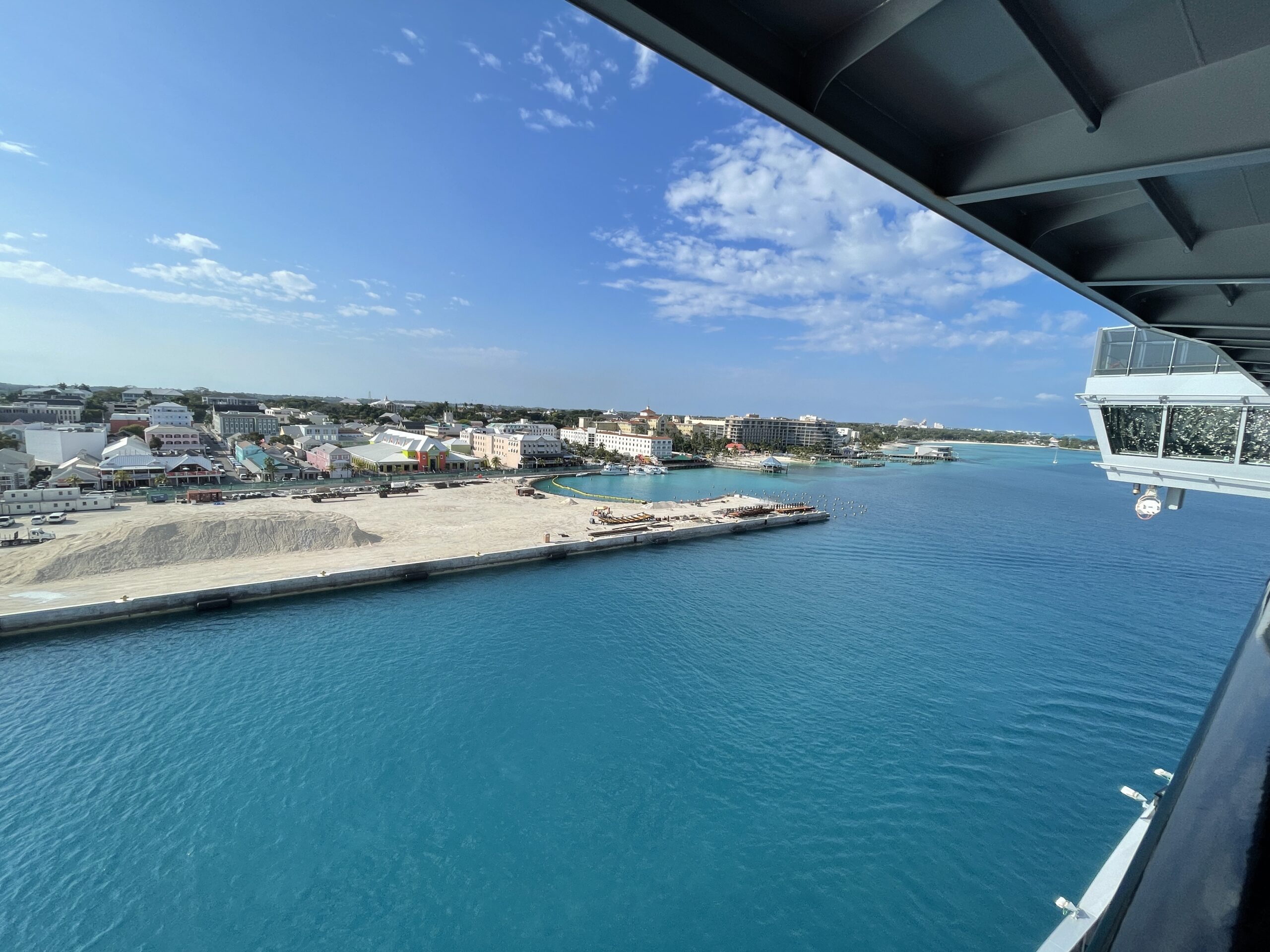 Today, Scarlet Lady visited the first of our two ports on this four-night voyage – Nassau in the Bahamas. We were one of only two ships in port today, something rare for Nassau. This port can hold up to five ships at a time and often does when cruises are operating at 100%. You may notice some construction in the photo from my sea terrace. The port is undergoing a $200 million transformation that will include a brand new cruise terminal, shops, an amphitheater, and more. Plus, they are adding a sixth berth, which will allow even the largest ships on the ocean to visit this beautiful port. The project was originally scheduled to be completed this year but will likely stretch into 2023.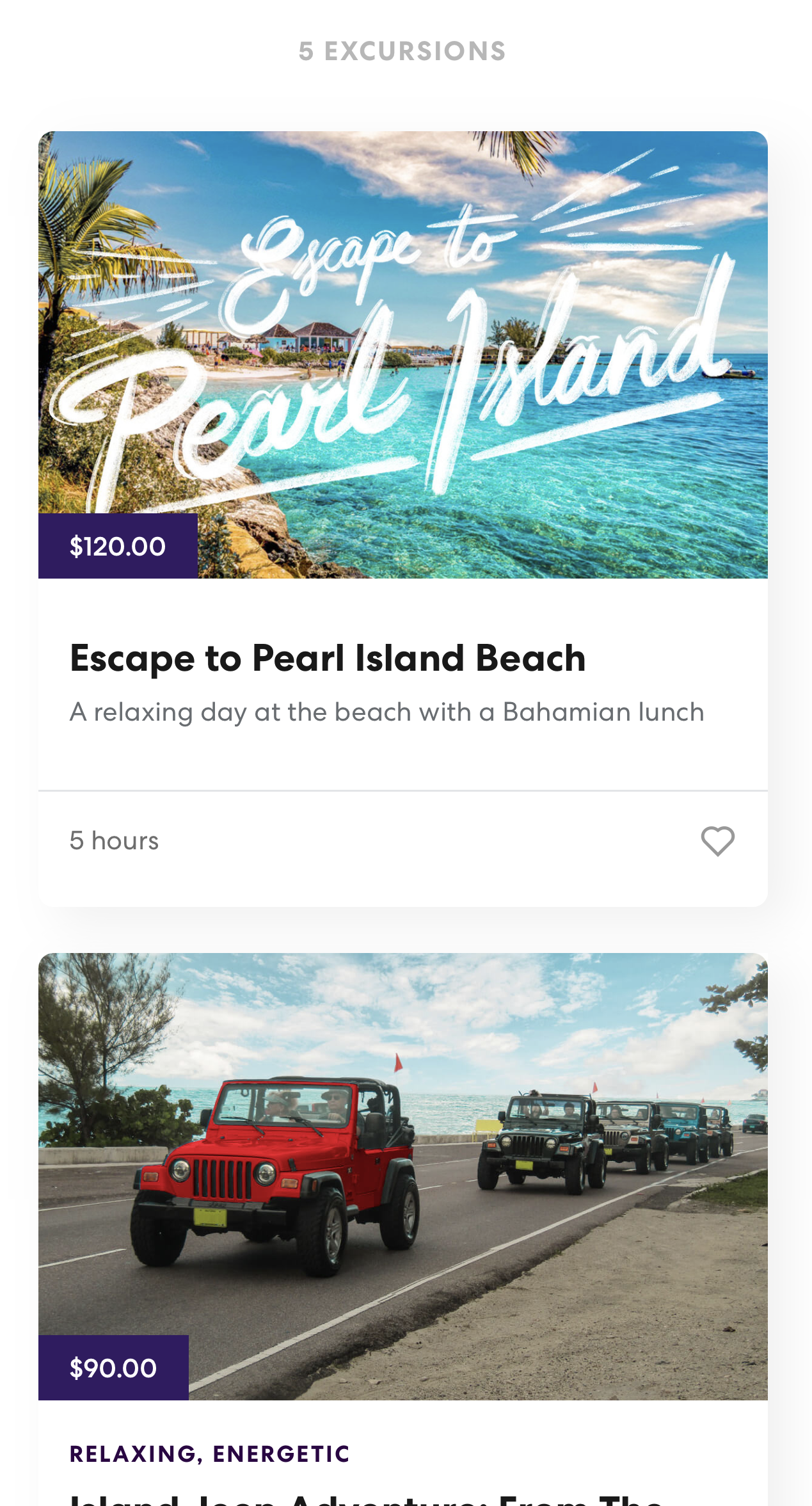 Since I have been to Nassau many times (and will be back here next week), I decided to stay onboard today and explore the ship. For those that did go ashore, there were some fantastic shore excursion options available, as you can see above.
THOSE AMAZING SEA TERRACE HAMMOCKS
I spent part of the day today relaxing in the comfy hammock on my sea terrace. The hammocks are featured on almost all of the sea terraces on Scarlet Lady and they have a cool story behind them. They are produced by Yellow Leaf Hammocks, a company you may have seen on a recent episode of SHARK TANK. Each hammock is handwoven with care by the expert craftswomen of the Mlabri Tribe in the hills of Northern Thailand.
They not only make the world's most comfortable hammocks, but through training and sustainable job creation, they empower their weavers and their families to break the cycle of poverty and build a brighter future. It makes total sense that Virgin Voyages would have these onboard, as part of their mission is to create a more sustainable planet and celebrate the people and places they visit. I look forward to spending more time in the hammock during the rest of my voyage.
FANCY A SONG?
There are many unique features and venues onboard Scarlet Lady, and even her karaoke is something special. "The Groupie" is the ship's karaoke lounge, featuring cool decor and three private rooms where you and your gang can get your song on. The rooms are bookable once onboard and have a wide variety of songs available.
DAY TWO LUNCH
There are around 20 different dining options on Scarlet Lady (all included) and today I decided that for lunch I would try the pizza parlor, where the pies are made fresh to order. There are several great options on the menu, and I presume that the chefs would mix and match as you desire since they are all created when you order them (no pizzas sitting under a heat lamp here). I opted for the pesto chicken pizza, which was a great option. I may go back later in the voyage to try a different pie.
THE IN-ROOM IPAD
Tech plays a big role in how Scarlet Lady operates. I discussed "The Band" in yesterday's blog, and today I wanted to feature the in-room iPads. Watch the video above to learn about the functions, including some hilarious (and very adult) features.
THE ITINERARY: ON LOCATION
Earlier tonight, Scott and I hosted a special edition of our weekly travel talk show THE ITINERARY. You can watch the entire episode above. We detail my first day and a half onboard, plus some of the features that make Scarlet Lady unique.
One thing we didn't get to discuss on the show is the casino, which is relatively small on this ship. There are a few tables and some slot machines. I was surprised to find out that there are no video poker machines onboard, which tends to be one of my go-to games in a casino. The size of the casino makes me think that gambling is not a priority for this brand. The few times I've walked through, the casino was not very active, unlike other ships I've sailed where it is typically very busy in the evening.
DINNER: NIGHT TWO
While last night's dinner at Extra Virgin was delicious, it was more of a traditional dining experience. Tonight, I visited Gunbae, the ship's Korean BBQ restaurant, which is anything but a typical dining venue.
At this eatery, you dine with other guests at a table with a large cooking area in the middle. Once you make your selections, the server creates your dishes right in front of you. I will post the entire menu in my Facebook photo upload later tonight, but suffice it to say there is a nice variety of options and everything I had was delicious. They also have some drinking games published in the menu and encourage your group to cheer the cooking and be loud. I can understand why this restaurant is located on one of the top decks. It's quite an experience and might be my favorite meal so far.
I had the chicken for an app (nice and spicy), the kimchi stew (very tasty) and the short rib, which they have you turn into a meat-filled lettuce wrap. Even the ice cream, which has Korean-infused flavors, is unique. I'd love to re-visit this restaurant again and try different options.
SCARLET NIGHT
Each voyage, the ship has a "Scarlet Night" where everyone is encouraged to wear red and a party takes over all of Deck 7. While I was wandering that deck to see what all was happening, I stumbled across another pop-up entertainment show featuring some of the musicians from last night. They are so incredibly talented and clearly having a good time. One was carrying a large umbrella with tentacles, meant to represent an octopus. The octopus is a recurring theme across the ship, prevalent in much of the decor and the theme for the tattoo shop, appropriately called "Squid Ink."
Tonight's late-night entertainment was the BoomVang, a dance party themed after the top night clubs of Miami, New York and Europe.
THE DAY AHEAD
Tomorrow we will visit Virgin's private destination, The Beach Club at Bimini. I'm looking forward to seeing what all is available to do at this resort-style destination. This is our last port before our final day at sea on Saturday.
Until then, good night from somewhere between Nassau and Bimini. Thanks for reading!