Celebrating Mardi Gras – San Juan Port Day Recap
Premier Custom Travel was one of a handful of travel agencies nationwide to be invited to sail on Carnival Cruise Line's brand new ship Mardi Gras. Now through August 21st, PCT's Chris Grum is onboard this amazing new ship, sharing photos, videos, and daily updates through our new blog series "Celebrating Mardi Gras." Today's post is a look at the happenings during our first of three port visits.
Earlier this evening, Scott McAlister and I hosted a special edition of our weekly travel talk show, The Itinerary. If you missed the show, you can catch it on-demand above, or on Facebook and PCT-TV (YouTube).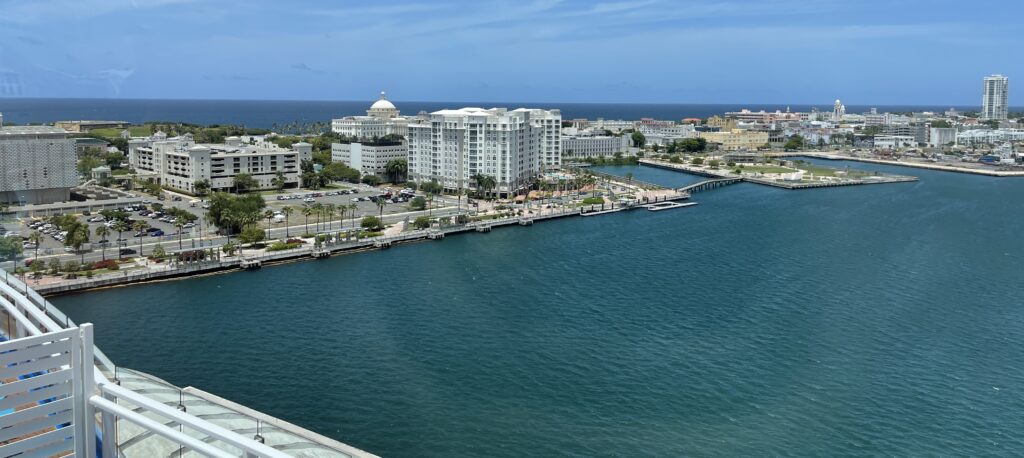 SAN JUAN, PUERTO RICO
Today, Mardi Gras called on San Juan, Puerto Rico, the capital city of this commonwealth. San Juan was founded by Spanish colonists in 1521, who called it Ciudad de Puerto Rico ("Rich Port City"). Puerto Rico's capital is the third oldest European-established capital city in the Americas. One of the other two is in a country we will visit tomorrow – the Dominican Republic.
There was a wide variety of fun things to do in this historic city. Here are just a few of the excursions Mardi Gras guests enjoyed today:
History Behind the Walls Walking Tour (SOLD OUT)
Rainforest Nature Walk, River Pools, & Beach (SOLD OUT)
New & Old San Juan (SOLD OUT)
Window Cave Experience
Certified One Tank Dive at Escambron Marine Park (SOLD OUT)
Hacienda Campo Rico Heritage Tour (SOLD OUT)
Secluded Beach & Rustic Vibes (SOLD OUT)
Old San Juan Walk, Mojito & Mofongo Experience (SOLD OUT)
Rum Mixology & Salsa Class
Eat, Drink, Walk: Puerto Rican Flavors (SOLD OUT)
Xtreme Zipline Adventure & The Beast (SOLD OUT)
Snorkeling Adventure at Escambron Marine Park
Fortresses of Old San Juan (SOLD OUT)
Discover Scuba at Escambron Marine Park (SOLD OUT)
Explore San Juan & Pristine Beach
Top 10 Must See of San Juan (SOLD OUT)
As you can see, many of today's adventures were sold out. I always recommend that you book any must-do excursions prior to your cruise, as availability can be limited onboard.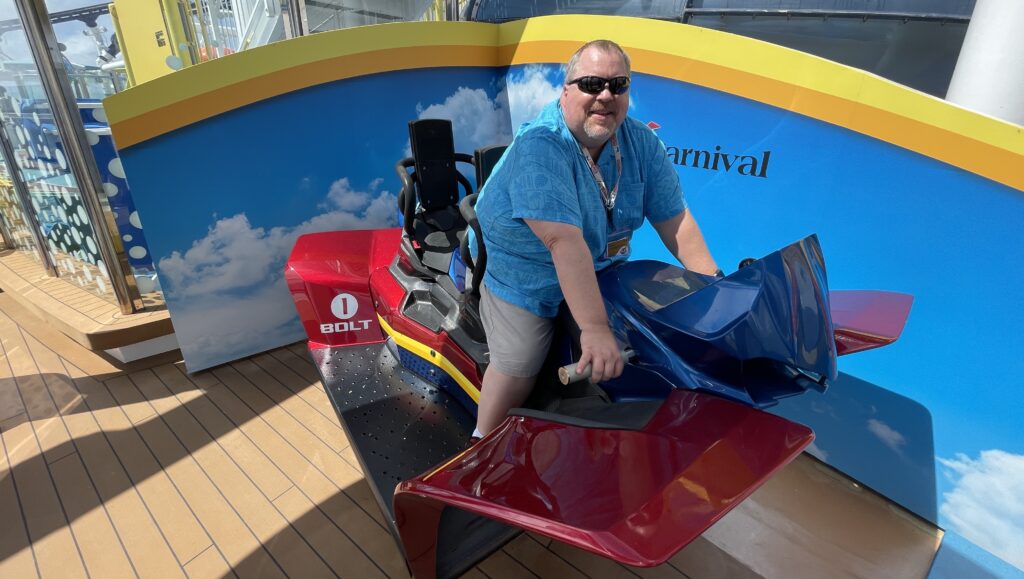 LIVE FROM THE ULTIMATE PLAYGROUND
The weather finally cooperated for the first time this cruise and Bolt – the Ultimate Sea Coaster, was up and running earlier today. In fact, it was sold out for the entire day by mid-morning.
If you missed it earlier, check out my Facebook Live where I show both the roller coaster and the most thrilling part of the ropes course – where you're suspended 16 decks above the ocean!
GRATUITIES – AND WHY YOU SHOULD NOT REMOVE THEM
Many cruise lines, including all of the major "mass market" companies, charge a daily service or hotel fee. Some call it a gratuity or a tip. Regardless of the name you use, it can be a very divisive part of the vacation experience. Some people believe tipping up front is better, while others prefer to do it at the end of the cruise. And, sadly, there are those who remove the gratuities at the end of the cruise for one reason or another. To my mind, there's only one reason to do that – and that's terrible service. And do you really want to punish the entire staff over one person's issues? Better to report their lack of service to management and let the rest of the crew receive the tips they have earned.
One excuse you may hear goes something like this: "We didn't go to the main dining room, so we don't need to tip the waiters." Seems great on paper, but unless you didn't eat for the entire cruise, those people (and many people behind the scenes) worked hard to make your dining experience happen. Each of those people share in that tip, not just the one or two frontline people who you see at your table. Have you noticed that your dining room waiters are also working the buffet or perhaps one of the specialty restaurants?
Currently, Carnival charges $13.99 per person per day for gratuities or $15.99 a day if you're in a suite. That money is shared by several people. Here is the breakdown:
Housekeeping team (stateroom stewards) – $4.35 ($6.35 for suites)
Dining team – $6.89
Alternative Services (behind the scenes team) – $2.75
There are two ways you can pay this daily charge. The first is to add it to your booking when you reserve your cruise. To be totally transparent, we do NOT make any commission on the gratuity portion of your booking, nor should we. 100% of that goes to the crew. If you do not pre-pay it via your booking, the daily charge will appear on your onboard account. Sadly, on every cruise you will see a long line at guest services on the final day with people removing the daily charge. For some, it is because they didn't know about it. For others, it is like I said earlier – they feel that it doesn't pertain to them. This is yet another reason to use a good travel advisor. They will explain what a gratuity is and why it's so important.
One last note on gratuities that can confuse people. These tips are only for the people mentioned above. If you go to the Spa, take a shore excursion, visit a specialty restaurant, or buy a drink, that gratuity (also optional) is separate.
Yes, tips are optional. But I've done close to 40 cruises and I can count on one hand (and still have fingers left over) the number of times I have not left an additional gratuity ABOVE AND BEYOND what was pre-paid. The crew of any cruise ship is the backbone of the entire experience. Please do not shortchange them. Instead, reward them for a job well done. Most of them are away from their families for up to 9 months at a time, with only the occasional choppy FaceTime or Zoom call. They deserve your respect, and they certainly deserve the small token of appreciation that is suggested.
OUR CURRENT LOCATION
This afternoon we set sail from Puerto Rico around 4pm. Our next stop is Amber Cove in the Dominican Republic. We should be along side there tomorrow around 8:45am. All ashore is at 9:30am, with all aboard coming at 5:30pm.
In Amber Cove and the Dominican Republic, the protocols will be as follows:
All guests will be required to wear a mask indoors and outdoors, except when eating, drinking, or in the water
All guests will be required to practice physical distancing of at least 6 feet both indoors and outdoors
Health protocols are under the control of local government and are subject to change without prior notice.
WHAT DO YOU WANT TO SEE?
Is there a feature of the ship you'd like me to spotlight? Have a question about this ship or cruises in general? Drop me a line and I'll be happy to feature your question or request in a future blog post.
My next update will be at the end of our day in Amber Cove tomorrow.
Until the, I leave you with the photo above – my fourth towel animal, courtesy of my stateroom stewardess Kanokkorn.