PCT's Chris Grum Inducted Into CLIA Hall of Fame as "Elite Cruise Counsellor of the Year"
During the annual Cruise360 conference in Fort Lauderdale, Florida, the CLIA Hall of Fame Cruise Industry Awards are one of the highlights of the event. During that black tie evening, three awards are given to some of the top leaders in the cruise industry. Those awards include Lifetime Achievement Award, Agency Innovator of the Year, and the Elite Cruise Counsellor of the Year, the highest award given to an individual agent each year.
Last night, Premier Custom Travel's Chris Grum, ECC was named as the Elite Cruise Counsellor of the Year. We will upload a video of the presentation to our Facebook page as soon as possible. Below is a transcript of the introduction of Chris and his acceptance speech.
CHARLES SYLVIA, ECC (Event Emcee):
This category is awarded to a current CLIA Individual Agent Member who has demonstrated their career commitment to professional development through achievement of Elite Cruise Counsellor or Elite Cruise Counsellor Scholar status – the pinnacle of CLIA certification, along with the requisite sales requirements – as well as significantly impacted the travel agent landscape through contributions to their agency.
This year's winner, Chris Grum, ECC, is well known and admired by all of us at CLIA, as he has served for many years on the CLIA Strategic Trade Advisory and Review Board, or STARBoard as it's known; is in attendance at Cruise360, every year, tirelessly supporting travel advisors who are new to the conference and the business; is the host of his own consumer-facing weekly travel talk show, The Itinerary; and who has achieved every available level of CLIA certification.
Given all his professional development achievements, Chris does not rest on his laurels as one of the most well-educated travel advisors in North America. Chris uses his expertise to help propel the cruise industry forward, booking cruises for his clients in the Greater Houston market and throughout the United States. Chris's clients have come to know him as both a trusted advisor and devoted advocate of their needs, wants, and expectations.
When it comes to supporting his fellow travel advisors and the cruise industry, Chris is unwavering in his willingness to lend a helping hand to travel advisors just starting out and to an important cause. Chris is an ardent champion for CLIA's advocacy work and strategic communications messaging and played a key role in promoting our "Ready, Set, Sail!" grassroots campaign in 2021 which was critical to the restart of cruising from the United States. Please join me in congratulating the winner of the 2022 Elite Cruise Counsellor of the Year Award, Chris Grum, ECC!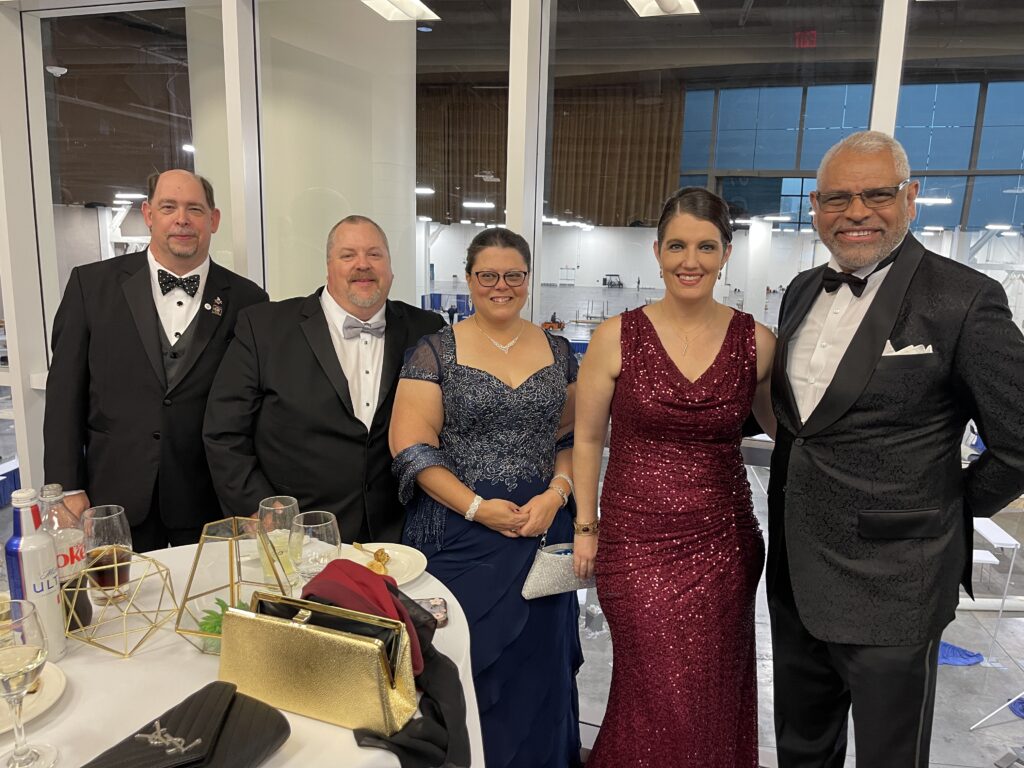 CHRIS GRUM, ECC
Thank you, Charlie, for that marvelous introduction. You have been an inspiration and a mentor to me, but I am even more honored to call you a friend.
When Charlie called to tell me I was receiving this award, believe it or not I had just boarded a cruise ship for vacation. The first words out of Charlie's mouth were, "You're going to celebrate tonight!" I just assumed he thought I had the drink package. Then he told me the reason for his call, and I was speechless…which anyone who knows me will tell you is pretty rare. Most people would say "thank you" or "what an honor" but the first words out of my mouth were, "Did everyone else say no?" Seriously, though, it took the rest of that five-night voyage for the news to sink in, and quite frankly, even standing here now and seeing my name in tonight's program is a bit surreal. And it's only appropriate that this acceptance speech was also written onboard a CLIA member line cruise ship.
Thank you to everyone at CLIA for this incredible honor. To be selected from the impressive list of travel advisors who have earned their Elite Cruise Counsellor or Elite Cruise Counsellor Scholar certification is more special to me than you will ever know. I'd also like to take a moment to congratulate the other award winners tonight. It is a privilege to be sharing this stage with them. [EDITOR'S NOTE: The "Agency Innovator" award went to Danny Genung and the team at Harr Travel, and the "Lifetime Achievement Award" went to Adolfo Perez, who is celebrating his 40th year with Carnival Cruise Line.]
I am immensely grateful to be a part of this industry and I want to thank every person who has been a part of my journey. Prior to joining the world of travel, I spent almost twenty-five years as a radio personality. Leaving that career to start another was the biggest, yet most rewarding risk I've ever taken.
Premier Custom Travel would not exist and I would not be standing here this evening without the invaluable contributions of Scott McAlister, who has been a part of creating and growing our company from day one. Who knew that a random lunch at a British pub would lead to all this.
When I attended my first Cruise360 many years ago, Premier Custom Travel had only been open a few months. I was nervous and apprehensive – worried about how would I be treated by others in the industry. To be honest, I wondered if they would look down on a new person or simply ignore me. That concern was misplaced, as the support and encouragement I received from suppliers, industry leaders, and fellow advisors from day one has always been inspiring. The CLIA team was incredible, as were many other industry leaders who were always approachable and generous with their time. It is impossible to name them all in the short time I have this evening, but I must mention Jackie Freidman, Vicki Freed, Alicia Steuart, Christine Duffy, Kristine Karst, and Heidi Olsen, just to name a few. Through your kindness and generosity, each of you, in your own unique way, made my first impressions of this industry positive and encouraged me to learn and to grow. The people I just mentioned, along with many others, helped me transform from a nervous, first-time attendee to someone who is now part of a team working on a forthcoming handbook for travel advisors. What a journey this continues to be.
I remember attending my first Hall of Fame dinner those many years ago. I sat somewhere over there, near the back of the room. As the awards were handed out, I couldn't help but think to myself, "One of these days I would love to be up on that stage." At the time, I wasn't sure if it was an attainable goal, but it was certainly worth pursuing.
So to my fellow advisors here tonight, and especially those of you who are just starting your journey…I say this: You CAN make it to this stage. Every day we fight as travel advisors to show our value, and a chain is only as strong as its weakest link. So we must strive to elevate our profession every day and make that chain ever stronger.
So work hard. Always be learning. Be uninhibited in your enthusiasm and unimpeachable in your ethics. Mentor the next generation of advisors. Pay it forward. Lead by example and be the best travel advisor you can be. And hopefully one day, I'll be able to sit out there somewhere and watch you accept this award.
I can't wait to welcome you to the club.
Thank you all very much.