Disney Updates: Snow on a Cruise Ship, Genie, and More
Snow on a Cruise Ship? Disney Cruise Line Reveals Splashtacular New Adventure on AquaMouse, First Disney Attraction at Sea
Guests planning a cruise aboard the Disney Wish next summer might want to pack their snow gear. They're headed to the Alps!
When Disney announced the Disney Wish a few months ago, they introduced Guests to AquaMouse, the first-ever Disney attraction at sea. They even shared details about the ride's original show "Scuba Scramble" — inspired by "The Wonderful World of Mickey Mouse" animated shorts —which will immerse Guests in a hilarious underwater adventure with Mickey Mouse and Minnie Mouse through show scenes and special effects.
Now Guests are in for double the fun aboard AquaMouse, because they've developed not one, but two brand-new original animated adventures to experience on this wild water ride!
The second show is "Swiss Meltdown," where Mickey and Minnie will invite Guests on a mountain sledding excursion that will inevitably (and hilariously) go awry. When the sun comes out and the snow begins to melt, Guests will be off on a frantic dash to the mountaintop while trying to avoid obstacles like avalanches, leaky rock walls and waterfalls — oh, boy! The story is inspired by one of the Emmy Award-winning "Mickey Mouse" shorts, "Yodelberg," and composer Christopher Willis adapted his iconic score from the episode for the attraction. 
There are many fun Disney easter eggs to catch during a ride on AquaMouse, such as an appearance by the abominable snowman from the Disneyland attraction Matterhorn Bobsleds. A fun hidden detail is that Chip and Dale are hiding in each show, hitchhiking their way to Disney's private island of Castaway Cay. Good luck trying to spot them amid the 60-plus water blasters, misters and pop jets that Guests will encounter along the way!
Now here's a special treat: a first look at the posters for both fun-filled excursions! These will be showcased in the attraction queue to let our Guests know which adventure is being featured each day of their voyage.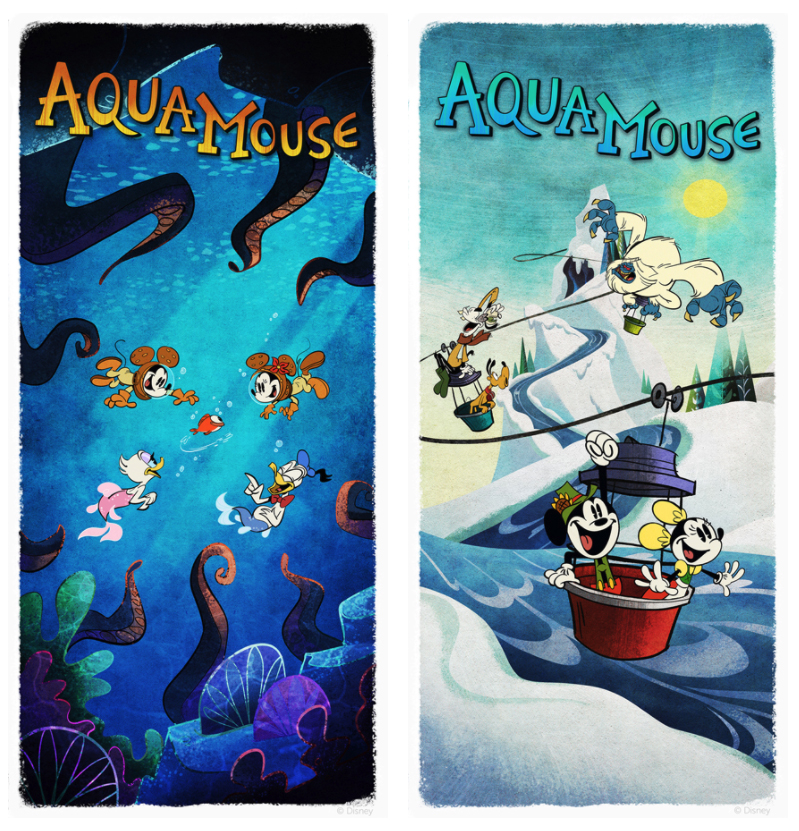 Guests aboard the Disney Wish can experience AquaMouse for the first (and second, third, fourth…) time when the Disney Wish sets sail in summer 2022! Keep an eye out for more details about Disney Cruise Line's newest ship.
Want to sail with Premier Custom Travel? Join us on one (or both) of our back-to-back Christmas cruises onboard the brand new Disney Wish.
Disney Genie Service to Reimagine the Guest Experience at Walt Disney World Resort and Disneyland Resort
Coming this fall to Walt Disney World Resort and Disneyland Resort, Disney Genie is a complimentary and convenient new digital service designed to create the best Disney day for our Guests. We've been listening to Guest feedback – they want planning to be easier, they want more flexibility and they want better tools to help you make the most of your visit – and that's exactly what Disney Genie is here to do. We've made significant investments in this cool new technology, which guides Guests through our theme parks with tips that can help them reduce time in lines, discover magic around every corner and take the guesswork out of "what's next."
Built right into the My Disney Experience and Disneyland apps, Disney Genie service will maximize your park time for our Guests, so they can have more fun. It includes a personalized itinerary feature that will quickly and seamlessly map out an entire day. From specific attractions, foodie experiences and entertainment, to general interests like Disney princesses, villains, Pixar, Star Wars, thrill rides and more – Guests just tell Disney Genie what they want to do and it will do the planning for them.
Here are a few more features:
Get Itinerary Updates from Morning to Night: Disney Genie will continue to update the Guest's itinerary throughout your day, so they can be more spontaneous and go with the flow.
Find Favorites at a Glance: Guests can create their very own personal tip board to instantly see their favorites. It will display current AND forecasted future wait times, helping Guests predict when they might experience quicker entry to attractions.
Enjoy More Flexibility and Fun: Disney Genie brings existing planning features together in one place. Guests can join a virtual queue at certain attractions, make dining and experience reservations, mobile order food at many locations, get help from a virtual assistant and more.
For even more convenience and flexibility, there are two other options for enjoying our theme parks, through a queue we are introducing called the Lightning Lane entrance that also saves Guests time in line:
Disney Genie+ service (available for purchase): For the price of $15 per ticket per day at Walt Disney World Resort and $20 per ticket per day at Disneyland Resort, Guests can choose the next available time to arrive at a variety of attractions and experiences using the Lightning Lane entrance. Guests can make one selection at a time, throughout the day – from classics like Haunted Mansion to thrill rides like Big Thunder Mountain Railroad and newer favorites like Millennium Falcon: Smugglers Run (attractions subject to limited availability). This convenient option is the next evolution of the fan-favorite Disney MaxPass service from Disneyland Resort. Disney Genie+ will also include Disney parks-themed audio experiences and photo features to capture your memories – augmented reality lenses for those visiting Walt Disney World Resort and unlimited Disney PhotoPass downloads from your day if you are visiting Disneyland Resort.
Individual attraction selections (available for purchase): Guests can schedule a time to arrive at up to two highly demanded attractions each day using the Lightning Lane entrance – like Seven Dwarfs Mine Train at Magic Kingdom Park and Radiator Springs Racers at Disney California Adventure Park (subject to limited availability; attractions not included with Disney Genie+). Pricing will vary by date, attraction and park.  
Lightning Lane selections will be made on the same day of the Guest's visit and can be used across multiple theme parks, great for those who love the Park Hopper option. Attractions continue to offer a traditional standby queue, or a virtual queue at certain attractions like Star Wars: Rise of the Resistance – to maximize flexibility.
While the FASTPASS, FastPass+ and Disney MaxPass services will be retired, we're incredibly excited about the flexibility and choices Disney Genie service provides. Guests can choose from all of our new options, a mix of them or none at all, and continue to have a great experience no matter how Guests decide to plan their best Disney day. 
We are also making some enhancements to our Disability Access Service (DAS) program, including new options to enroll in the program pre-arrival and for DAS participants to select arrival windows for attractions directly in the app. These options will be available in addition to our existing, in-person DAS program.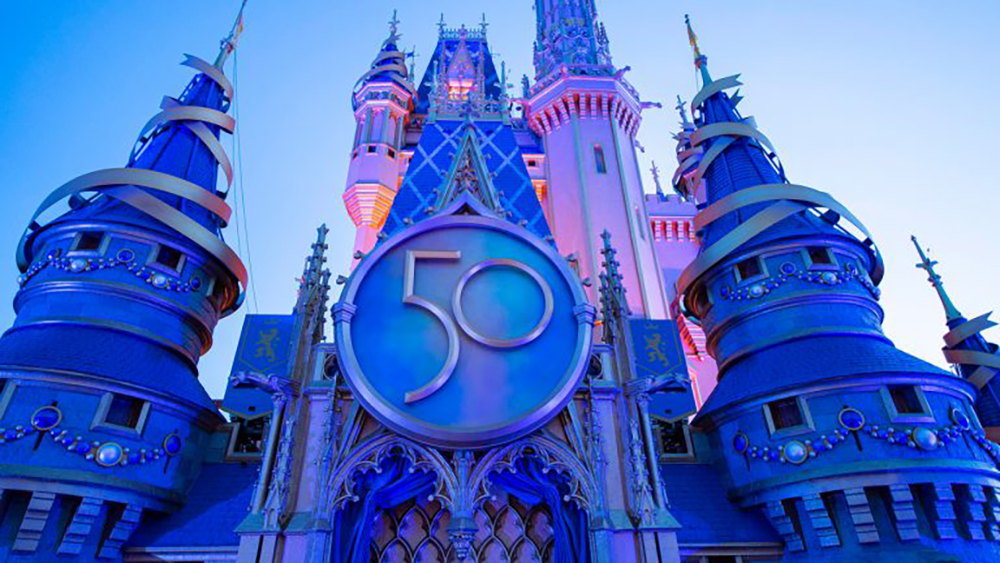 'The Most Magical Story on Earth: 50 Years of Walt Disney World' to Air Oct. 1 on ABC
Just announced! In celebration of the 50th Anniversary of Walt Disney World Resort, ABC News and Disney Parks have teamed up to present a spectacular television event, "The Most Magical Story on Earth: 50 Years of Walt Disney World."
This special, hosted by Disney Legend Whoopi Goldberg, will take viewers on a journey spanning half a century and beyond at Walt Disney World in Florida. The show will also feature spectacular visuals and musical performances from Christina Aguilera and Halle Bailey in front of the legendary Cinderella Castle at Magic Kingdom Park, accompanied by the renowned Orlando Philharmonic Orchestra. Throughout the special, viewers will see exclusive interviews with iconic actors, actresses and athletes, Walt Disney World cast members, Disney Imagineers and executives past and present who have all played their unique part in sprinkling pixie dust over "The Most Magical Place on Earth."
This EARidescent special event will take viewers through Walt Disney World's humble beginnings in the swamplands of Florida and its evolution into a cultural phenomenon. Through an expansive look into the past, present and future of the vacation destination, footage never before seen on television will give fans a glimpse into the journey to bring Walt's vision to life and a look at plans for the future. The special will also spotlight some of Walt Disney World's most memorable pop-culture moments, from the many sitcoms that filmed episodes in the theme parks to the conception of the ubiquitous "I'm going to Disney World!" campaign. Plus, viewers will get a heartwarming look at how Disney and Make-A-Wish foundation have worked together for over 40 years to make kids' Disney dreams come true.
Celebrities including Anthony Anderson, John Stamos, Marsai Martin, Gary Sinise, Melissa Joan Hart and Candace Cameron Bure; NFL athletes Tom Brady, Phil Simms and Doug Williams, and creative forces Kevin Feige, Pete Docter and James Cameron; Walt Disney World Imagineers including Bob Weis, Mark Kohl and Ann Morrow Johnson; and Disney executives past and present including Bob Chapek, Bob Iger and Michael Eisner, will all share their favorite memories of Walt Disney World.
"The Most Magical Story on Earth: 50 Years of Walt Disney World" airs Friday, Oct. 1 8-10 p.m. ET on ABC. It can also be viewed the next day on demand and on Hulu, and later in the month on Disney+.
Check Out Our Galactic Starcruiser Digital Brochure
Star Wars: Galactic Starcruiser opens Spring 2022 at the Walt Disney World Resort!
The Star Wars: Galactic Starcruiser Digital Brochure provides detailed content on this 2-night immersive adventure, including highlights of the experience, dining and cabins and suites.
As a reminder, bookings are not yet available for Star Wars: Galactic Starcruiser. Stay tuned for updates.
New Digital Key Feature Now Available on the Disneyland App
As the Disneyland Resort continues to optimize the Guest experience, a new feature is now available on the Disneyland app* to make a hotel stay even more convenient.  
The optional feature will allow Guests staying at Disney's Grand Californian Hotel & Spa or the Disneyland Hotel to unlock their room with a digital key using the Disneyland app. When used with online check-in, Guests can even bypass the front desk to start their vacation even faster, allowing them to go directly to their room when it is ready.  
To use their digital key, Guests can follow these steps:
Link hotel reservation to their Disney account via the Disneyland app or online
Complete Online Check-in (up to 5 days prior to arrival) or check-in at the Front Desk upon arrival to complete the traditional process
Once a room has been assigned on day of arrival and is ready for the Guest, they can access their room and locate their hotel room number within the digital key feature by tapping the "Unlock Door" button after signing into their Disney account on the Disneyland app
To enter their room, Guests tap the "Unlock Door" button via the Disneyland app and then simply hold their phone against the door lock. A Bluetooth®-enabled device with the latest version of the Disneyland app is required.
We expect to provide Guests at Disney's Paradise Pier Hotel with the option of using a digital key in the future.
* Message, data and roaming rates may apply. Availability subject to handset limitations and features may vary by handset or service provider. Coverage and app stores not available everywhere. If you're under 18, get your parents' permission first.
'Disney Enchantment' – An All-New Spectacular at Magic Kingdom Park – Debuts Oct. 1 for Walt Disney World 50th Anniversary Celebration
"Disney Enchantment," an all-new nighttime spectacular, will debut in Magic Kingdom Park on Oct. 1, coinciding with the launch of "The World's Most Magical Celebration." Here are more details about this remarkable new show.
This all-new spectacular inspires everyone to believe in magic, with captivating Disney music, enhanced lighting, immersive projection effects that extend for the first time down Main Street, U.S.A., and an emotional original song, entitled "You Are the Magic," by seven-time GRAMMY-winner Philip Lawrence. And throughout the show, stunning fireworks fill the sky, providing a great experience for guests throughout the park and neighboring resort hotels.
"Since opening day in 1971, dazzling fireworks shows have provided that perfect exclamation point at the end of a fantastic day at Magic Kingdom Park," said Mark Renfrow, Show Director, Disney Live Entertainment. "From 'Fantasy in the Sky' and 'Wishes' to holiday spectaculars and 'Happily Ever After,' each new show has raised the bar, and the best is yet to come! I can't wait for everyone to see what we're creating with 'Disney Enchantment.'"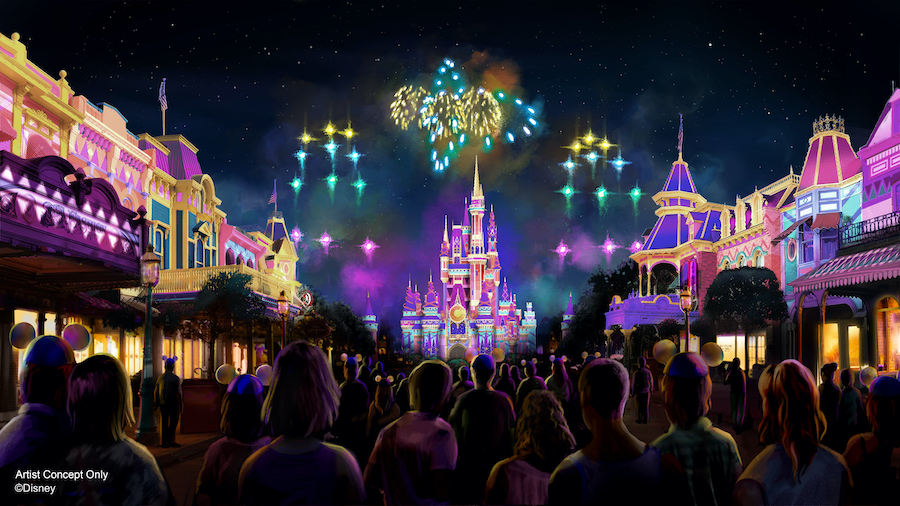 In "Disney Enchantment," we join dreamers like Tiana, Miguel, Rapunzel, and brothers Ian & Barley from "Onward," and we set out on an incredible journey with adventurers such as Moana, Raya, and Judy Hopps. Joe Gardner from Disney and Pixar's "Soul" takes us into "the zone," where we discover a whimsical world inspired by the style of legendary Disney artist Mary Blair and filled with beloved characters from classic stories like "Beauty and the Beast" and "Alice in Wonderland" to contemporary tales including "Luca" and "Wreck-It Ralph." Everything builds to a climactic moment, as Tinker Bell takes flight, spreading shimmering gold pixie dust and empowering us all to believe in ourselves and the magic all around us.
"Disney Enchantment" features characters, moments, and music from dozens of Disney and Pixar animated films. The show takes us beyond the ordinary to a land of magic, where we're swept up in a world of wonder filled with friendship, love and fun. Through it all, we'll discover we only have to look within to find the power to believe and make dreams come true, because the magic was inside us all along!
"Disney Enchantment" debuts October 1 at Magic Kingdom Park as part of "The World's Most Magical Celebration."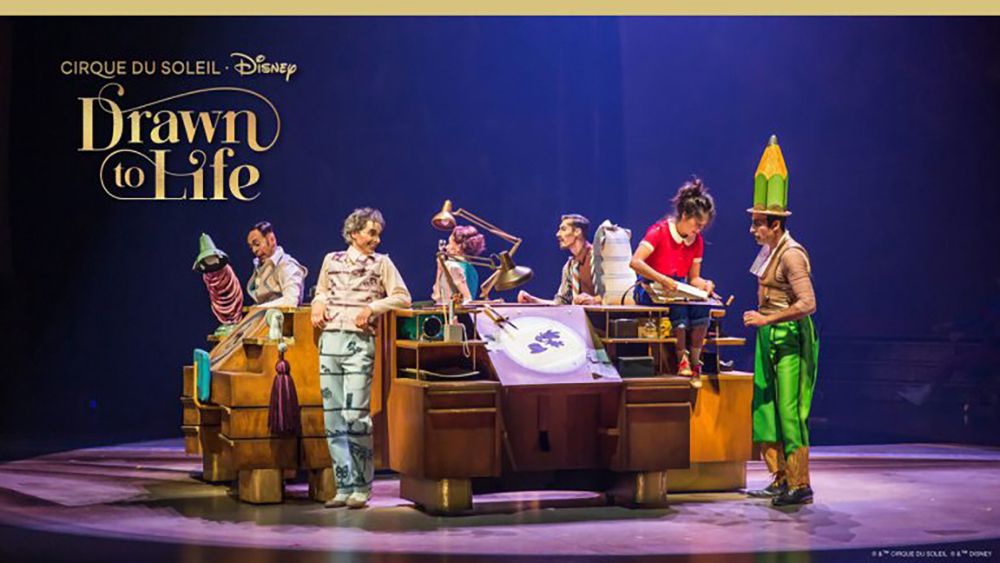 The Show Goes On! Cirque du Soleil & Disney Announce Opening Date for Drawn to Life at Disney Springs
The iconic white tent theater at Disney Springs is buzzing with activity once again as Cirque du Soleil artists are returning to the stage to train and rehearse for a spectacular new show.
Drawn to Life presented by Cirque du Soleil & Disney is scheduled to open on Nov. 18, 2021. Tickets are on sale now.
Drawn to Life is a thrilling collaboration between Cirque du Soleil, Walt Disney Animation Studios and Walt Disney Imagineering. At its core, the show is about the love between a father and a daughter with a story drawing inspiration from Disney's 100-year heritage of animation. The family-friendly show brings timeless Disney stories and characters to life in an unforgettable way through the use of innovative design, acrobatic performances, dazzling choreography, musical scores, brand-new animation lovingly created by Disney Animation artists, and some extra touches of Disney magic.
Originally scheduled to debut in spring 2020, Drawn to Life was in its final rehearsals when the pandemic brought live theater performances to a halt. While waiting to return to the stage, artists stayed in shape by training at home or at local facilities. Now, the intermission is over and being back in the theater together is a dream come true for the cast and crew!