Celebrating Mardi Gras – Third Sea Day Recap
Premier Custom Travel was one of a handful of travel agencies nationwide to be invited to sail on Carnival Cruise Line's brand new ship Mardi Gras. Now through August 21st, PCT's Chris Grum is onboard this amazing new ship, sharing photos, videos, and daily updates through our new blog series "Celebrating Mardi Gras." Today's post is a look at our final full day at sea.
FINAL SEA DAY HAPPENINGS
Our final sea day was packed with lots of things to do. Here are just a few of the activities and fun times that were available today and tonight:
Casino Hot Seat Promotion
Trivia (several different topics throughout the day)
Groove for St. Jude Deck Party (Carnival has raised millions with this)
Mark Henry Alexandrite Jewelry Sale
Tons of live music at various lounges and bars, plus on deck
Ladies Pamper Party
Body Sculpt Boot Camp in the fitness center
The Love & Marriage Show
Bingo
Reverse Charades
Punchliner Comedy Club with Valarie Storm & Tommy Drake
EFFY Clearance Sale
Playlist Productions presents "Broadway Beats" with the production cast
Electric Violins
Late Night with DJ Trav & DJ Bandit
Singles Mixer
Dive-In Movies – "Tenet"
Piano Bar Sing-along with Patrick Duffy
Viva Variety – Phil Hughes
I've been posting each day's schedule (along with a ton of photos) on our Facebook page.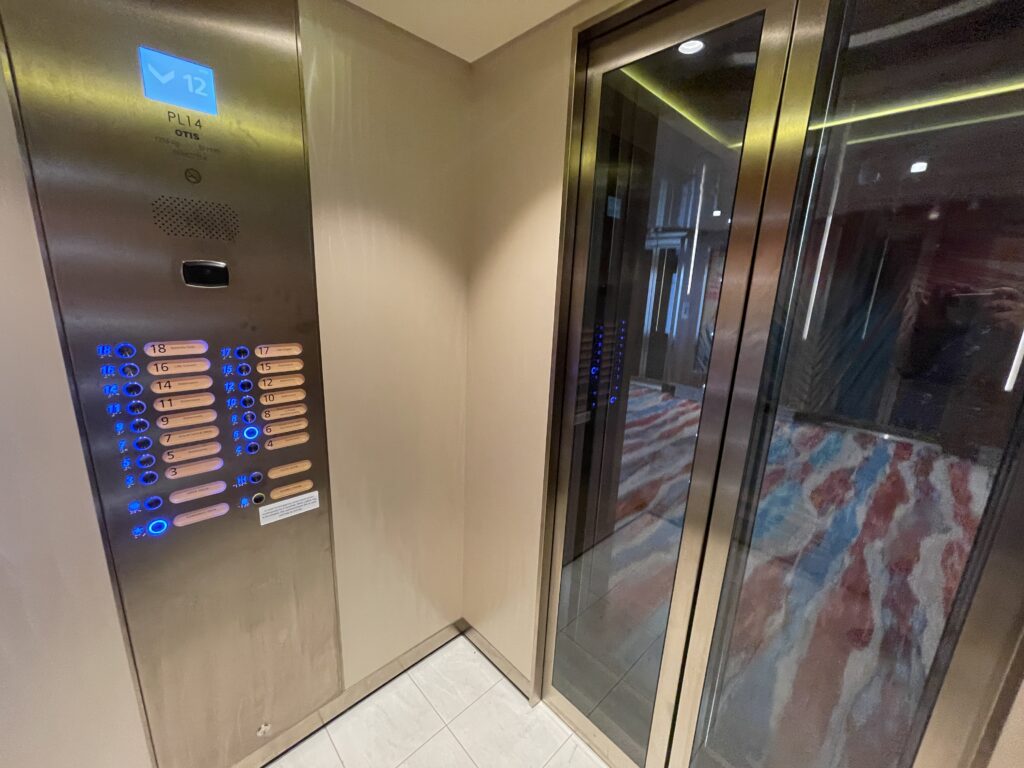 PEOPLE VS. ELEVATORS
I'm always fascinated watching people try to operate and understand elevators. Sometimes, I can understand the challenge, especially in places like New York's Marriott Marquis Hotel in Times Square, or onboard Carnival's ships Horizon and Panorama. In these instances, the elevators use a different system where the buttons are on the outside of the actual elevator car. When you arrive at the elevator bank, you punch in the floor you wish to go to and the system assigns you a car. The idea behind this is to send people going to the same floor to the same car and speed up the system. But for those who have never used it, they get confused and enter any open car they see. Once inside, the realize that there are no buttons and they took a space meant for someone else. I can completely understand this confusion.
To be clear, Mardi Gras has traditional elevators. The buttons are on the inside of the cars, and there are up and down arrows above each set of doors to indicate which direction the elevator will be traveling. However, this hasn't stopped people from getting into the car and then being surprised when it is not going their direction. And may I admit to a pet peeve? Those who press a button that is already lit. This doesn't speed up the process and the elevator doesn't need to know how many people are going to a particular floor – just that someone wants to go there. We've even had a few impatient people who have repeatedly pressed buttons, thinking that will make the elevator come quicker. It won't. Relax – you're on vacation!
One interesting feature that I have never seen in any elevator before – childproofing.
Mardi Gras' elevators have been programmed to clear all buttons pressed when more than three are selected at the same time. The idea behind this is to prevent kids from getting in the elevator and pressing all the floors. The downside to this feature is that sometimes, when you have enough people going to more than three floors, you end up clearing everyone's selections. Just prior to writing this blog, I was in an elevator with a larger number of folks. We could only press three floors at a time, and we added more as we worked our way up. Perhaps they should increase the number for 4 or 5. I like the concept behind it, but the execution could use a bit of work. Or maybe, just a button that clears all the floors.
FOOD, GLORIOUS FOOD
I've posted a lot of photos from the various restaurants onboard Mardi Gras. Here's a complete run-down of everywhere you can eat, and the cost where applicable.
B-Breakfast L-Lunch D-Dinner 24-24 Hours
Flamingo Restaurant (Main Dining Room) – Complimentary – B/D
Palm Restaurant (Main Dining Room) – Complimentary – B/D
SeaDay Brunch – Complimentary (with some a la carte items)
Afternoon Tea – Complimentary (some teas are charged a la carte)
Lido Marketplace – Complimentary – B/L/D
Chef's Table – $95pp – D
Emeril's Bistro 1396 – A la carte pricing – B/L/D
Fahrenheit 555 Steakhouse – $38pp – D
ChiBang! – Complimentary* – L/D
Bonsai Sushi – A la carte pricing – L/D
Bonsai Teppanyaki – $32pp – L/D
Rudi's Seagrill – $38pp – D
Cucina del Capitano – Complimentary* – L/D
Pizzeria del Capitano – Complimentary – 24
Piazza Panini – Complimentary – L/D
Guy's Pig & Anchor Smokehouse & Brewhouse – Complimentary (with some a la carte items) – L/D
Blue Iguana Cantina – Complimentary – B/L
Seafood Shack – A la carte pricing – L
Street Eats – Complimentary – L
Shaq's Big Chicken – Complimentary – B/L
Guy's Burger Joint – Complimentary – L
Room Service – Complimentary (with some a la carte items) – 24
JavaBlue Cafe – A la carte pricing – B/L/D
Fresh Creations – Complimentary – L
Swirls Soft Serve & FroYo – Complimentary – 24
Carnival Kitchen (Cooking classes) – $30-$59pp – Class times vary. See this post for class descriptions
*Restaurants marked with an asterisk are currently complimentary but will be converted to specialty restaurants at some point in the future. Cucina del Capitano is typically complimentary at lunch and $15 at dinner. ChiBang! pricing has not been released but is expected to be similar.
BELIEVE THE RATINGS
One complaint I'm always surprised by is those who go to an R-rated comedy show and then are upset by the content.
On all Carnival ships, they have two types of comedy shows – more family friendly and the adults-only shows. The differences are clearly marked both on the Hub App (where you can get the daily schedule) and also outside of the comedy clubs. They also usually make an announcement prior to the show warning that it is an adults-only or R-rated show. If you're one of those who is easily offended (or just gets upset by everything these days) then I'd definitely recommend skipping the R-rated show and the PG one might not be for you either.
Bottom line – if they tell you it's going to be a raunchy or adult-themed show, believe them.
FUN FACT: Ever wonder how Carnival has so many different comedians on your cruise?
Believe it or not, most comedians are not onboard for the full cruise, especially on the 7-night or longer voyages. Instead, the ships swap talent at some point during the cruise. If you sail with Carnival, you'll almost always meet up with another Carnival ship at some point during the cruise. It might be in Nassau, perhaps Cozumel, maybe even Amber Cove, as was the case with Mardi Gras yesterday. We met up with Carnival Magic, which was in the middle of a 5-night cruise from Port Canaveral. While the guests onboard both ships were enjoying their shore excursions, the comedians from each ship swapped places and will end their week on a different ship from where they started. It's a really smart idea that allows many of the Carnival cruises to offer four or more funny people on each sailing.
DID WE FORGET TO PAY THE POWER BILL?
For a short time this evening, Mardi Gras lost main power. I was in the middle of a Facebook Live with Scott McAlister talking about the new cruise restrictions on the Bahamas when the lights went out. The outage was less than five minutes and it is important to stress that at no time were we in any danger. I've sailed 39 cruises and never had this happen before but to be honest, it was more surprising than scary. There was emergency lighting, so we weren't completely in the dark.
A few minutes after the event, the Captain came on the intercom to explain what happened and that everything was fine. He has a thick Italian accent but honestly isn't too hard to understand. Moments later, our Cruise Director Chris the Flying Scotsman came on to repeat the announcement. I'm certain that this was because some people have had a hard time understanding the Captain. However, Chris has his own thick accent and I found it a bit amusing that they chose another accented person to repeat the message.
All is well now and all the ship's systems appear to be working fine. Just glad I wasn't in the casino landing a royal flush when the outage happened.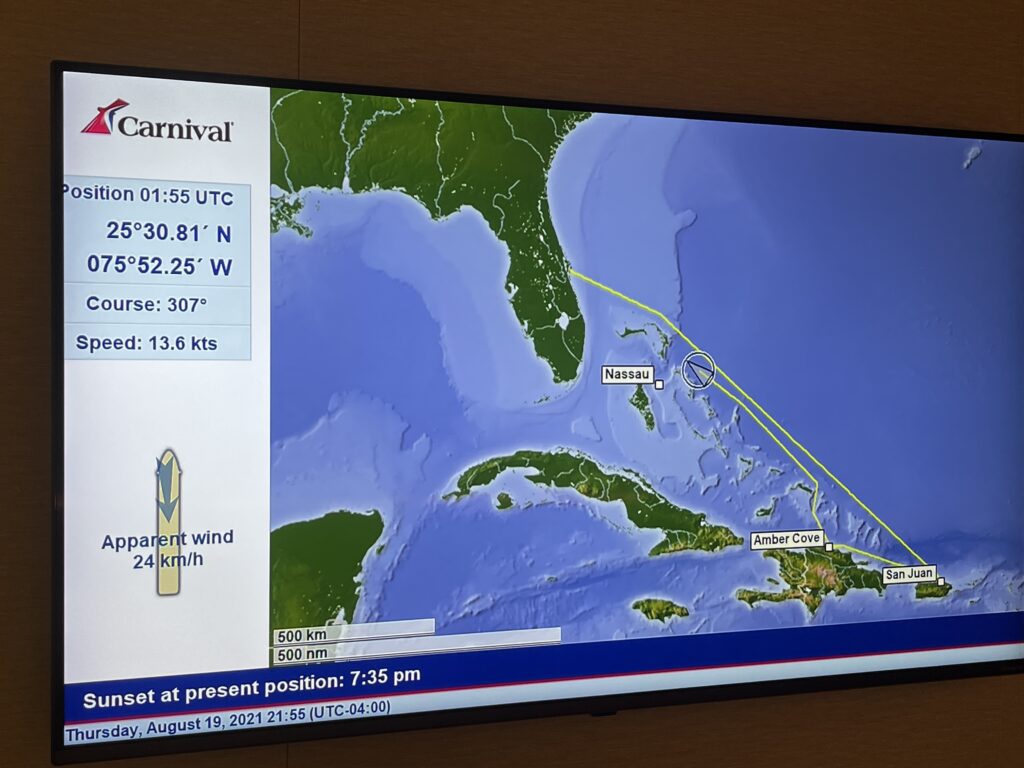 OUR CURRENT LOCATION
Today was our final full day at sea. Tomorrow morning, we'll arrive in Nassau around 7am for a short call through 2:30pm. Tomorrow's blog will be my cruise recap and the final post in this series.
Here are the protocols for going ashore in Nassau:
All guests are required to wear masks indoors and outdoors, except when eating, drinking, or in the water
All guests are recommended to physically distance 6 feet indoors and outdoors
Don't forget to bring your vaccination card with you. Certain locations require you to present it for access. A picture on the phone will suffice.
Health protocols are under the control of local government and are subject to change without prior notice.
WHAT DO YOU WANT TO SEE?
Is there a feature of the ship you'd like me to spotlight? Have a question about this ship or cruises in general? Drop me a line and I'll be happy to feature your question or request in a future blog post.
My final update will be tomorrow evening after we sail away from the Bahamas towards Port Canaveral.
Until the, I leave you with the photo above – my sixth towel animal, courtesy of my stateroom stewardess Kanokkorn.